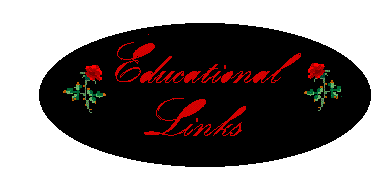 As a mom homeschooling 2 children, I've had to find alternatives to regular book type learning for several reasons, since books are terribly expensive, and if its not entertaining their attention wanders and they don't learn anything. The internet has oodles of information just free for the asking, on just about anything you could possibly need to teach your child. A good homeschool education doesn't have to cost a fortune. Below are some of the great sites I have found with tons of useful information. If you know of any other great places please e mail me at : fyredragyn@yahoo.com and I'll add them.

---
History
Archive of Early America
All about the 1980's.
The History Channel
Groliers WWII Commeration
American History
History Net
Library of Congress
Museum of London
National Archives and Records Administration
Smithsonian Institution
---
Homework Help
Ask Dr. Math Forum
B.J. Pinchbecks Homework Helper
Encarta Schoolhouse
Knowledge Adventure Encyclopedia
Shakespeare Bookshelf
World Factbook


---
Online Dictionaries/Writing Help
Free online dictionary of computing
Bartlett's familiar quotations
OneLook Dictionary
Elements Of Style
Phrase Finder
Quotation Search
Roget's Thesaurus
Rhyming Dictionary
Web of online dictionaries


---
Encyclopedia's and Atlases
American Presidency Archives
Encyclopedia Mythica
U.S. Gazetteer (Maps)
World Population Figures


---
Science and Learning
American Museum Of Natural History
Discovery Channel Online
Weather Channel Online
Grand Canyon Explorer
Hubble Space Telescope Pictures
Human Anatomy Online (requires Java capability)
Hypertech Virtual Science Museum
NASA
Nature Perspective
Views of the Solar System


---

MORE COMING SOON!
Don't forget to bookmark this site :)



Home
Table Of Contents